About Us
Bear STS is a friendly, safe and reliable private school transportation provider serving the Ottawa area. We provide transportation for children, of all ages and needs, to and from school, day care, after school care providers or extra-curricular activities such as recreational, sporting and tutoring activities.
We provide parents with peace of mind by ensuring their children are safely driven to their destination on time by experienced drivers with clean driving records who have submitted police record checks, maintain reliable vehicles while carrying appropriate vehicle insurance and have provided this service for a number of years through this company and others.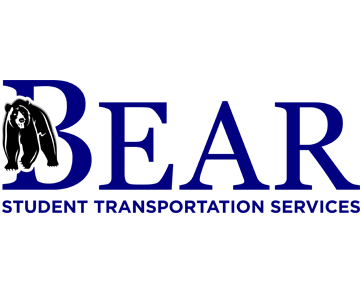 COVID-19 Measures
In alignment with provincial COVID-19 pandemic concerns, our vehicles are professionally cleaned and sanitized on a regular basis including daily interior cleansing with disinfectant wipes. Our drivers carry hand sanitizer and wear protective face masks while driving children. We expect that your children use the hand sanitizer upon vehicle entry and wear either face masks or shields as well.
Contact Us
Contract Policies
Contracts are offered on a monthly and yearly basis
Monthly payments are expected on the last day of the previous month. Yearly contract payments are calculated through monthly payments, unless full payment is made at the start of the contract
Payments may be made by cash, cheque (with post-dated cheques for remaining months of service agreement) and etransfer
Non-payment or NSF will immediately cancel service. Service will resume upon payment receipt in full
NSF cheques will be subject to a $35.00 charge
No refunds for sick days, snow days or other personal reasons. If the child/children do not require transportation for a day, please notify us or your driver within 24hrs
Bear STS adheres to school board cancellations for the safety of the children and will notify parents by 7:00am of the day of cancellation. There is no refund for school cancellations
It is the parents' responsibility to provide safety equipment such as booster/car seats
Cancellation requires a 30-day written notice to be submitted
There is an additional charge of $5.00 to walk children into the school to class and $5.00 to pick them up from class
Parents or caregivers must be home for drop off at the arranged time or the child will remain with driver at an extra cost of $30 for every 1/2 hour.
Contact Us
Transportation Procedures
Children will be picked up at their homes in the morning at the agreed to pick-up time. Children should be ready for pickup at the agreed to pick-up time
Children must wear their safety belts at all times, no exceptions
Children will be dropped off at school according to school regulations
Children will be picked up in the afternoon at the agreed school location, no later than 10 minutes after the school bell has rung, unless previously agreed upon with the driver
Children that physically harm other children will have their services terminated. BULLYING will not be tolerated.
For safety reasons, eating and drinking are not permitted in transportation vehicles.
It is imperative that parents inform Bear STS and the driver of any issues that could possibly affect the safety of the child/children being transported such as custody issues, separation, restraining orders or any other legal matters.
Contact Us
Rates
In order to provide an accurate rate, it is important that the following information is confirmed:
Pickup address
Dropoff address
Morning and/or afternoon pickups
Frequency (as in number of days per week or bi-weekly)
Length of service required
Number of children to be transported
Additional charges will be assessed for:
Booster/car seat service, if not provided by parents
Seat charge for additional children
Children needing to be dropped off and/or picked up directly in class by their driver
Please ensure that this information is added to our submission form found under "Contact Us"
Contact Us
Testimonials
"
I used Bear Student Transportation Services for my five-year-old son. I needed a safe and reliable form of transportation to take my son from school to daycare every day. The President, Brian, reassured me that all of their drivers have passed criminal record checks and reference checks. Brian arranged for me to meet the driver in advance and even gave me a photo of the driver to share with my son and his school. They thought of everything and took care of my son as if he was their own.

My son really liked his driver and enjoyed his time in the car. It's clear that Bear STS staff and drivers enjoy working with children. They also take their service very seriously. In the six months that I used their service, I never once worried about my son. They were also very responsive to messages and accessible. I always knew my son would be safe and happy in their care. I would highly recommend Bear STS to anyone who needs transportation for their children and is looking for peace of mind.
"
A few years ago, our son transferred to a school that was too far away to easily drive to or take the bus. When we found Bear STS, Brian not only became our driver, he also became a good friend. Our son always looked forward to the time spent in the car with Brian's positivity and great sense of humour. Brian always showed up on time, made sure seatbelts were on before driving away and communicated to us if there were any challenges or concerns for that day. Brian's safe delivery of our son was really what made it possible for him to attend the school of choice and give us peace of mind that he was in excellent hands. I would recommend Bear STS without hesitation.
Contact Us
For a transportation quote, please complete all fields in this form, click Send Message and we will get back to you as soon as possible: